June 4, 2021
|
Camera traps
I had heard a lot about Bushwhacker's Big Eye D3N photo trap, so I decided to contact them to test their flagship product.
The quality of the photos and videos is now an indispensable feature in the choice, together with the trigger speed of the PIR sensor and the possibility of securing the machine with large and small padlocks.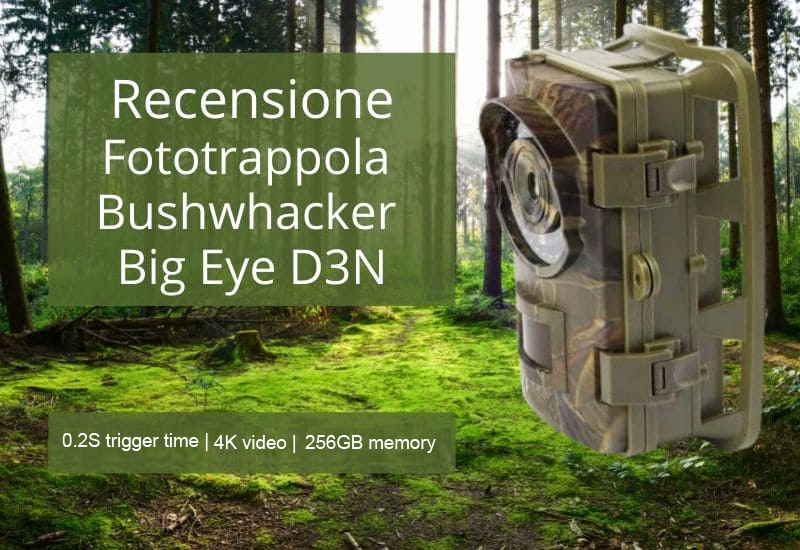 All these fundamental features are present in this machine. But let's go step by step and see all the features of this camera trap:
Technical characteristics declared:
Photo £º 1MP / 3MP / 5MP / 8MP / 12MP / 16MP,
HD Video: 4K UHD / 20FPS, 1080P @ 30FPS, 720P @ 30FPS,
42pcs, 850nm and 940nm IR LEDs for selection,
Trigger time 0.2s,
Built-in 2.4 "TFT color screen,
Support SD cards up to 256GB,
PIR sensor angle 50 ¡ã,
IP66 waterproof.
PRO BUSHWHACKER BIG EYE D3N PHOTOTRAP
really good photo and video quality,
quick trigger,
at night it takes sharp and very clean shots,
30 fps for HD videos and 20 fps for 4K videos give great satisfaction,
supports SD cards up to 256GB,
Possibility of closing the camera with a padlock and attaching it to the tree with a steel cable,
Possibility to configure 940 NM LEDs invisible at night.
AGAINST BUSHWHACKER BIG EYE D3N PHOTOTRAP
I didn't find any honestly, of course it is obvious that, using the 850 nm LEDs, you have greater visibility at night, but at the same time the camera trap is visible.
The camera trap makes very few blank videos, even on very windy days and this is really great!
It works perfectly with Nizn or lithium rechargeable batteries together with the 6V external battery. Furthermore, by supporting SD cards up to 256 GB, it can have an incredible range of up to 3/6 months in the field.
I found this camera trap to be a really good model and I'm sure it will give me great satisfaction in the future.
This article is reprinted from https://www.fototrappolaggionaturalistico.it/bushwhacker-big-eye-d3n/